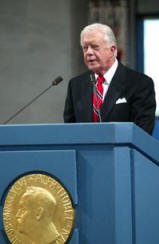 Photo: EPA Scanpix Norway
"The bond of our common humanity is stronger than the divisiveness of our fears and prejudices. God gives us the capacity for choice. We can choose to alleviate suffering. We can choose to work together for peace. We can make these changes—and we must."
— Former President Jimmy Carter
Nobel Peace Prize Acceptance Speech
December 10, 2002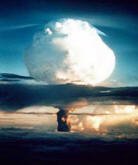 Photo: ForeignPolicy.com

!Fact:
North Korea has quadrupled its nuclear capability since Bush called them a member of the "axis of evil" just a couple of short years ago. But where is our attention? On Iraq, a country that did not have WMD and did not harbor terrorism — until we invaded.
Nuclear proliferation is on the rise in the world and our current foreign policy is a successful recruiting system for terrorists. We're on a dangerous track. We must turn our foreign policy around soon if we want to remain safe at home.
As President Clinton said, "...we can't possibly attack, imprison or kill everyone who's against us. We have to make friends."

---
"I'm not defending freedom, I'm protecting a corporate interest."
—Kelly Dougherty, sergeant, National Guard
---

The Carter Center "Waging Peace, Fighting Disease, Building Hope"
America as Empire —Global Policy Forum
Dahr Jamail's Iraq Dispatches: News From Inside Iraq —Firsthand reports from an unembedded reporter inside Iraq
Apocalypse Soon —Danger of continuing a cold-war style foreign policy that relies on nuclear weapons —by former JFK advisor Robert S. McNamara
Bush Administration Lawyers Greenlight Torture
Operation Truth — real stories from the American troops in Iraq
America the Vulnerable: How Our Government is Failing to Protect Us from Terrorism By Stephen Flynn
Waging Modern War and Winning Modern Wars: Iraq, Terrorism, and the American Empire both by General Wesley K. Clark
Losing America: Confronting a Reckless and Arrogant Presidency by Senator Robert C. Byrd
Outsourcing Torture —by Jane Mayer, The New Yorker Magazine
Amnesty International's 2005 Report on Human Rights (focus United States)
The Politics of Truth: Inside the Lies that Led to War and Betrayed My Wife's CIA Identity — A Diplomat's Memoir by Joseph Carter Wilson
Talking Peace: A vision for the next generation by President Carter (young audience)
When a Country Goes to War, Cloquet High School Documentary Project Receives High Praise — Minnesota Public Radio
Vets Return, But Not Always with Healthcare, Christian Science Monitor
---

Faces of the Fallen, American Artists Honor American's Heroes
How Many Weapons in America's Nuclear Arsenal? -- fast loading, 90 second movie from True Majority
Operation Truth, a list of excellent interviews of American Troops and war events
"When a Country Goes to War"
, Young soldiers discuss ethics of Iraq war (video excerpt from Cloquet High School documentary, requires free registration at Star Tribune)
---

Forgotten Man by Henry Warren (real audio)
Acceptance speech for the Nobel Peace Prize by President Jimmy Carter, 2002
World Talk Radio: Ethics and American Foreign Policy (real audio)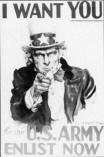 U.S. Army Poster, c WWII
America as Responsible Members of the World Community


Position statement: Democrats believe that America is stronger when we are respected throughout the world and when America respects the human rights of others. We believe that America's long-standing position as diplomatic and moral leader inspires a world community that is safer and stronger for all of us. We believe in treating others ethically, as we'd like to be treated, including upholding the Geneva Conventions, keeping promises for providing humanitarian aid and assisting developing countries to become independent economic partners. Democrats believe that a sane policy with regard to nuclear proliferation is critical, including preserving the non-proliferation treaty and cleaning up deadly, depleted uranium around the world, for the health and safety of life on earth.

Position statement on war: Democrats believe that "We go to war when we have to, when it's really necessary, when we're being attacked. We don't go to war as an instrument of economic policy. We don't go to war for political positioning. We go to war when we have no other choice. We go with a plan for winning the peace, and we go with enough troops to be effective." (paraphrase, Dr. George Lakoff).

By contrast, radical Republicans have abandoned international diplomacy in favor of dangerous bullying tactics. They use abusive force and intimidation to get whatever they can get away with, including violent means to gain unlimited power and money for corporate interests. They believe altruism and compassion are weaknesses and care little for the suffering of others. This short-sighted and selfish role in world affairs is deadly to our economic future and to our personal safety.

By contrast, Republicans on war: Radical Republicans believe in invading countries that did not threaten us in order to take their wealth. Global power and unlimited personal profit are their primary motives. These new Republicans also believe that violating moral conventions to torture and intimidate prisoners of war is considered "flexible policy", resulting in protections being lifted from our own soldiers under similar circumstances. They freely use our taxpayer money to feed the war machine, including plans to build even more nuclear weapons, to help make obscene profit for their war contractor friends. This new brand of Republican has learned to control voting citizens by keeping us in a perpetual state of fear and uncertainty. War makes money and keeps Republicans in power, so we see wars are begun by Republicans and resolved and ended by Democrats.



Make "frame sandwiches" using any of these values:

Protection

Justice

Security

Health

Safety

Cooperation

Community

Patriotism

Repeat these ready-made frames: "Moral Foreign Policy"; "Ethical Foreign Policy"
Use these themes: Strength through cooperation; American leadership through diplomacy and backed by military; Strength in numbers, allegiances with other strong countries make us safer; Democracy by force doesn't work; Democracy begins at home;
Reframe using these concepts: "War on Terror" reframed to "Iraq invasion"; "Iraq insurgency" reframed to "Iraq resistance";
Contrast using these words: Republicans make big money on war; Republicans control us with fear; "The Torture President"
Avoid repeating these words: "War on Terror"
Know the tools in the radical Republican tool chest:


Quick facts* :

Sources:

Mapping the Global Future, 119 page CIA report January 2005

The Carter Center: "Waging Peace, Fighting Disease, Building Hope"

Global Policy Forum: Empire? and Global Policy Forum: International Justice, The International Criminal Court (ICC)

Amnesty International 2005 Report on Human Rights (by country) -- Report on the United States is here

CorpWatch: War Profiteers, Spotlight on Halliburton and All Company Profiles .

Foreign Policy.Com: Portal to Global Politics, Economics and Ideas

Open Letter to the Senate Judiciary Committee on U.S. policy and "rendition" of prisoners to countries that practice torture — written and signed by 8 U.S. Generals and 3 U.S. Admirals

Dangers of Depleted Uranium —World Health Organization

The Cost of War calculator and what our tax dollars could have bought instead

Standing with Our Troops, the Democrat's Plan to support our troops

Global Policy Forum: Aid that Doesn't Deliver and

International Physicians for the Prevention of Nuclear War

Department of Veterans Affairs and Veteran Demographics

Iraq Fact Sheet, Senator Kennedy's facts sources for January 2005 speech on how to turn the Iraq situation around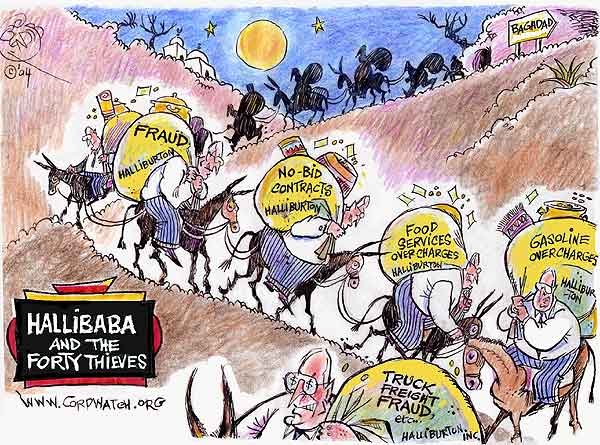 Cartoonist: Khalil Bendib
---
"Whether you are a Democrat or a Republican, our nation is stronger when we are respected throughout the world."
--Governor Bill Richardson
---