!Tip:
Rely on the KISS Principle ("keep it short and simple") for all your communications. You've got just a few seconds to open the door. Once the door is open, you've got perhaps four minutes to get your point across. Less is more.

!Tip:
Do NOT use or repeat the radical Republican's language. Learn to reframe instead.

!Fact:
Reframing is the art of moving the conversation to our own turf instead of defending ourselves from theirs.


"The truth is
the future of our nation
rests in your hands, and
not in mine."
—Governor Howard Dean
!Tip:
Problem/Solution
Structure is an important aspect to any successful argument. Try this tried-and-true method of constructing a persuasive argument: problem/solution.
Quickly explain the problem then offer your position as the solution. Use the 80-20 Rule with says that 80% of your presentation should explore the positive solution and 20% should set out the negative problem to be solved.

---
"Where, after all, do universal human rights begin?
In small places, close to home…the factory, farm or office where he works…unless these rights have meaning there, they have little meaning anywhere."
--Eleanor Roosevelt, United Nations remarks, 1953

Effective Communications
Here is a handy list of "how to's" for communicating our Progressive message. Learn the tips and tricks of the communications pros to get your communications noticed, passed on and printed. Before you write, speak or design, refer to our list of Progressive values and principles.
Here's how to create an effective...

Progressive Values and Principles Revisited
To promote our Progressive message, we all need to start talking in terms of our core values. These are our core moral values, the ones that guide our conscience and help us prioritize our actions. Our core values, equality, protection, responsibility, freedom, opportunity, fairness and community are at the heart of all our Democratic policies.
Strength through Community,
Mutual Responsibility, Unity

---

Opportunity for All,
Broad Prosperity

---

A Better Future,
Fulfillment in Life

---

Effective Government,
Fiscal Responsibility,
Accountability

---

Safety, Security and Protection

---

Equal Rights,
Freedom* and Fairness,
Respect and Dignity,
Compassion

---

Cooperation, Unity
and Interdependence

---

Trust* and Honesty

---

Open Communication
Use these values and principles as themes for your conversations, presentations and written communications. Give your communications meaning by sandwiching your facts and issues between a repeated value word. Include the facts and statistics that back up your point, but don't let facts speak for themselves. They don't. Policies, facts and programs mean little to the average person, but our core values are alive with meaning and motivation. Use them —liberally.

Dictionary Definition: "Liberal"
Next time someone calls you a "liberal", remind them who we are and what we stand for. Help reclaim this much maligned mantle. We can do it over time with patience and perseverance and good ideas.
Here's one idea: find ways to circulate this definition of a liberal from the American Heritage Dictionary of the English Language, 4th edition:
"
lib·er·al Not limited to or by established, traditional, orthodox, or authoritarian attitudes, views, or dogmas; free from bigotry.
Favoring proposals for reform, open to new ideas for progress, and tolerant of the ideas and behavior of others; broad-minded.

"

Messengers of Democracy
Where do we get our core moral values? Explore the link "Messengers of Democracy" to read about those who've inspired our values, from Jesus and the Founding Fathers to Roosevelt and Kennedy, we've got an impressive moral compass to follow.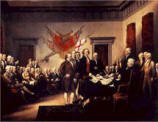 ---

Interviewing and Media, Skills 101
Here's a great diary over at The Daily Kos that highlights the skills you need when encountering media: Interview Skills 101--Surviving the Fox Hunt. Too often, we trust our interviewer. We give him too much information. The truth is: DON'T DO IT. They will hang you with your own words. Instead, deliver a simple message and repeat it.
The media are in the business of sensationalism, delivering an audience to sponsors and fulfilling corporate interests. Ratings and self-interest are what drives the bus, not balanced reporting or public interest. Sharpen your interviewing skills and messaging techniques now. Get ready to play the game to win.
---

What's your angle?
Newspapers, magazines, e-zines all have one thing in common: they need content. Are you interested in contributing? If your answer is "yes!", then here's a handy list of possible angles that the media finds newsworthy. Use these for writing feature stories, press releases, brochures, flyers and just about any communication. What's considered "newsworthy" catches interest.
Local: Why is this story important to local residents?

Milestone: Is this story a historical marker?

Personal: Who is the face of the victim in the story? Who has an authentic voice on the issue?

Seasonal: Can this story be attached to a holiday or seasonal event?

Anniversary: Can the story be associated with a local, national or topical historical event?

Breakthrough: What is new or different about the story?

Celebrity: Is there a celebrity (local or national) already involved with or is willing to lend his or her name to the issue?

Controversy: Are there adversaries or other tensions to the story?

Injustice: Are there basic inequalities or unfair circumstances?

Irony: What is ironic, unusual or inconsistent?
---

Connect with Grassroots Groups
Progressives know what Democracy should be: People First. This means strong communities are supported by a responsible and respectful government that we own. Progressives from every party are uniting to create the largest grassroots movement in modern history. Be a part of it. Make history. You can make a positive difference while you enjoy camaraderie with other concerned, caring individuals.
Join the ranks of regular people fighting to save our democracy. Sign up for an e-newsletter, catch interesting speakers and keep up on current events. At our local level, it's empowering and even fun to make a difference.
Consider joining your local Democracy for America group. Check out a current list of other grassroots organizations to join and ways to make a difference at Grassroots for America.