Shirley Chisholm at the National Womens Hall of Fame (a quick list of all inductees is here)
Equal Rights Amendment Speech, 1970
---

Chisholm '72: Unbought and Unbossed, PBS documentary
---

Shirley Chisholm Speech for the Democratic Presidential Nomination (real player, The History Channel)
Say It Plain: Live Recordings of the 20th Century's Great African-American Speeches (CD and book)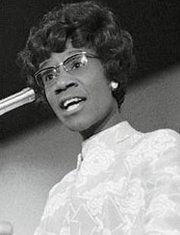 Shirley Chisholm 1924-2005
"I don't measure America by its achievement but by its potential."
Justice—Fairness—Strength—Equality—Compassion—Freedom—Interdependence

Legacy of Courage and Compassion: Equal Rights Champion, Defender of the Poor
Shirley Anita St. Hill Chisholm, "unbought and unbossed", was an American politician, educator, and author. She was a Congresswoman representing New York's 12th District from 1969-1983. In 1968, she became the first African-American woman elected to Congress. She ran for the Democratic presidential nomination in 1972, garnering 152 delegates.
In 1964, Chisholm ran and was elected to the New York State Legislature. She then ran as the Democratic candidate for New York's 12th District congressional seat and was elected to the House of Representatives in 1968. She defeated Republican candidate James Farmer, to become the first African-American woman elected to Congress.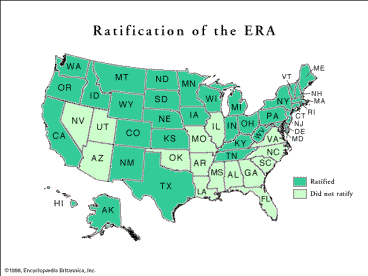 Chisholm joined the Congressional Black Caucus in 1969 as one of its founding members. In 1972, Chisholm made a bid for the Democratic Party's presidential nomination, and received 152 delegate votes, but ultimately lost the nomination to South Dakota Senator George McGovern. Chisholm's base of support was ethnically diverse and included the National Organization for Women. Among the volunteers who were inspired by her campaign was Barbara Lee, who would go on to become a congresswoman some 25 years later. Chisholm said she ran for the office "in spite of hopeless odds," "to demonstrate the sheer will and refusal to accept the status quo."
In 1972, the Equal Rights Amendment was again introduced (as it was every year since 1848). Shirley Chisholm was a vocal supporter of equal rights for women. The amendment was finally approved by Congress and presented to the states for ratification. The initial pace of ratifications was rapid, but later slowed. Congress had set a seven-year time limit for ratification, and by the end of that deadline in 1979 only 35 of the 38 required states had ratified. In fact, five of those approving states actually later rescinded their ratifications of it.
Chisholm created controversy when she visited rival and ideological opposite George Wallace in the hospital soon after his shooting during the 1972 presidential campaign. Several years later, when Chisholm worked on a bill to give domestic workers the right to a minimum wage, Wallace got her the votes of enough southern congressmen to push the legislation through the House. Throughout her tenure in Congress, Chisholm would work to improve opportunities for inner-city residents. She was a vocal opponent of the draft and supported spending increases for education, healthcare and other social services.
From Wikipedia, the free encyclopedia. All images are believed to be in the Public Domain.

"In the end antiblack, antifemale, and all forms of discrimination are equivalent to the same thing - antihumanism."
---

"When morality comes up against profit, it is seldom profit that loses."
---

"Service is the rent we pay for the privilege of living on this earth."
---

"Congress seems drugged and inert most of the time... its idea of meeting a problem is to hold hearings or, in extreme cases, to appoint a commission."
---

"Tremendous amounts of talent are lost to our society just because that talent wears a skirt."
---

"We've got to come together in order to make the republic work for everyone, regardless of race, creed, or color."
---

"...my belief that the basic design of this country is right. What is essential is to make it work, not to sweep it away and substitute — what? Something far worse, perhaps."