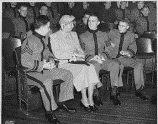 Eleanor Roosevelt at USMA in West Point, New York 1951

No Ordinary Time Franklin and Eleanor Roosevelt: The Home Front in World War II by Doris Kearns Goodwin, Pulitzer prize winner
The Universal Declaration of Human Rights, Office of the High Commissioner of Human Rights, UN
The Autobiography of Eleanor Roosevelt by Eleanor Roosevelt
The Eleanor Roosevelt Papers: The Human Rights Years 1945-1962
Without Precedent: The Life and Career of Eleanor Roosevelt —Joan Haff-Wilson and Margori Lightman
Casting Her Own Shadow: Eleanor Roosevelt and the Shaping of Postwar Liberalism by Allida Black
Teaching Eleanor Roosevelt, A guide for educators sponsored by the National Park Service
---
"All human beings are born free and equal in dignity and rights. They are endowed with reason and conscience and should act towards one another in a spirit of brotherhood."
—Article 1, UN Universal Declaration of Human Rights
---

Learning guides from Teach with Movies are available for the following...
Eleanor Roosevelt, The American Experience
---

"Dear Mrs. Roosevelt" by Woody Guthrie (Side 2 of a Tribute to Woody Guthrie, remake by Bob Dylan)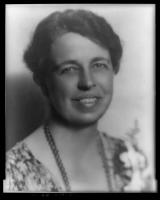 Eleanor Roosevelt 1884-1962
"The future belongs to those who believe in the beauty of their dreams."

Human Rights—Courage—Freedom—Respect—Compassion—Interdependence
Anna Eleanor Roosevelt: A Profile in Courage and Freedom
Eleanor Roosevelt was an American human rights activist, diplomat and as the wife of U.S. President Franklin Delano Roosevelt, the longest acting First Lady. An active First Lady, she traveled around the United States promoting the New Deal and visited troops at the frontlines during World War II. She was a first-wave New Woman and an active supporter of the American Civil Rights Movement.
<![if !vml]>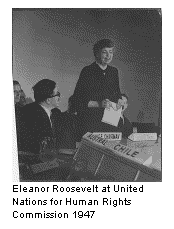 <![endif]> Mrs. Roosevelt was instrumental in the formations of numerous institutions most notably the United Nations, United Nations Association and Freedom House. She chaired the committee that drafted and approved the Universal Declaration of Human Rights. President Harry S. Truman called her the First Lady of the World, in honor of her extensive travels to promote human rights.

After World War II, she was pivotal along with John Peters Humphrey and others in formulating the UN Universal Declaration of Human Rights. On the night of December 10, 1948, Mrs. Roosevelt spoke on behalf of the Declaration calling it "the international Magna Carta of all mankind". The Declaration was unanimously adopted by the General Assembly later that night.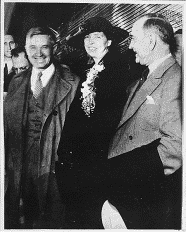 "You've got to go out on a limb
sometimes because that's
where the fruit is."
—Will Rodgers


Eleanor Roosevelt and Will Rogers
in Los Angeles, California 1933
From Wikipedia, the free encyclopedia. All images are believed to be in the Public Domain.

"It is our freedom to progress that makes us all want to live and to go on."
---

"At all times, day by day, we have to continue fighting for freedom of religion, freedom of speech, and freedom from want—for these are things that must be gained in peace as well as in war."
---

"One of the best ways of enslaving a people is to keep them from education... The second way of enslaving a people is to suppress the sources of information, not only by burning books but by controlling all the other ways in which ideas are transmitted."
---

"Will people ever be wise enough to refuse to follow bad leaders or to take away the freedom of other people?"
---

"The most important thing in any relationship is not what you get but what you give."
---

"You gain strength, courage and confidence by every experience in which you really stop to look fear in the face."
---

"Justice cannot be for one side alone, but must be for both."